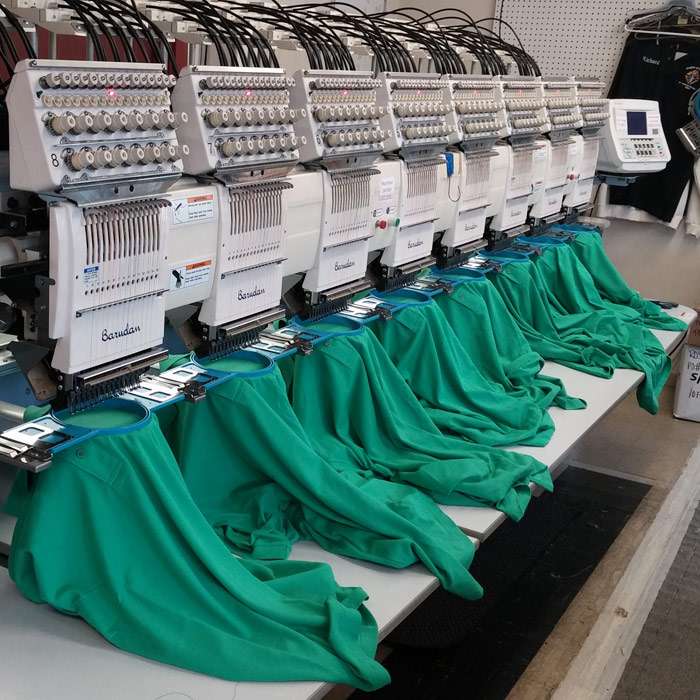 State of the Art
Embroidery
See what makes Guertin Graphics the #1 choice for embroidery services throughout Central MA and beyond! We have 12 heads of embroidery to help expedite your order. 
We take pride in our custom embroidery department and you will look great in our finished product!
Professional Looking Custom Embroidery
Guertin Graphics & Awards offers custom embroidery with Up to 15 thread colors on our multi-head embroidery machines. We also offer state of the art digitizing where we can convert your logo to be used for embroidery for that professional corporate look you have been wanting.
CONTACT US FOR PRICING
– All work done in house.
– We are not responsible for sewing results on customer supplied items
– Shirts and hats not combined for quantity
Colors
Original artwork can be up to 15 colors, If you know the PMS colors that make up your logo, great! That helps us a great deal. We will try our best to make a PMS match. Keep in mind, when comparing thread to ink; there may be some variances.
Many people also ask us about use of colors. In the case where you desire the logo to be more subtle, you may choose a tone-on-tone effect for your embroidery. That is were the thread color used on the embroidered logo closely matches the garment color. The effect is subtle and classy.
Or if you wish to use different colors, please let us know. If you aren't sure what colors to use we will be more than happy to make some suggestions.. Art should consist of spot colors only, as it is not possible to embroider fades from one color into another or art consisting of halftones. Due to the limitations of thread and needles, very small details or lettering will not reproduce when sewn. Lettering should be no smaller than 1/4″ to 3/8″ in height, smaller lettering will be illegible
Digitizing
The logo will be digitized using a state of the art embroidery digitizing system, resulting in a computerized file like the one shown here. Digitizing is the process by which we tell our computerized embroidery machines where to sew each stitch in order to recreate a logo on a garment. When a logo is digitized, our experts use a computer program to accurately convert your logo into a system of stitches that the embroidery machine can read.
Recreating an image with needles and threads is different than printing it with ink on paper. We work very hard to make sure your logo looks just as it does on paper. However, because thread and material are less precise than ink on paper, some variations may be required. However, you will approve the image before it goes into production.
Cost to digitize logos up to 8000 stitches is $65  if your total order is less than $850, or free if your total order is more than $850 (designs requiring more than 8000 stitches are extra, see information below). This is a one-time fee. Once it is done, we can generally use it for future orders with no additional cost. On occasion, we may need to rework the logo for a different application than what it was originally digitized for (i.e. a jacket back). We will never do this without your approval first. This can then be fed into an automated embroidery machine and sewn out onto dozens of different items, from golf shirts to laptop carrying cases
Logo size once embroidered
Maximum embroidery sizes are 4" high x 4" wide for a left chest and 2.25" high and 4.0" wide for a cap. Most embroidered logos fall within these size ranges. We will size your design appropriately based on our experience. Sometimes this can present a problem with small text, if so, you will be consulted before production begins. The size of many designs is dictated by the smallest text in the design.
Small text
The smallest text we can embroider with any accuracy is about .25" tall. We can make adjustments to your logo design to compensate for slight variations.
Location
A vast majority of logos are embroidered on the left chest of a garment. However, other locations are gaining in popularity such as the left sleeve, cuff, lower sleeve or the yoke (on the back under the collar).
We will discuss the price and confirm the logo placement with you during the approval process.
Approval
After we have your logo digitized, we will send you a picture of your custom embroideru for approval. We will not begin production until we have your approval. That way you will know exactly what you are getting when your logo apparel arrives-no surprises.
When finished, your company or organization will have a unique and beautiful item for employees, gifts, special functions or events. Embroidery can range in size from a few inches to entire jacket backs. Call or e-mail for more information and a price quote.
Types of Clothing We Specialize In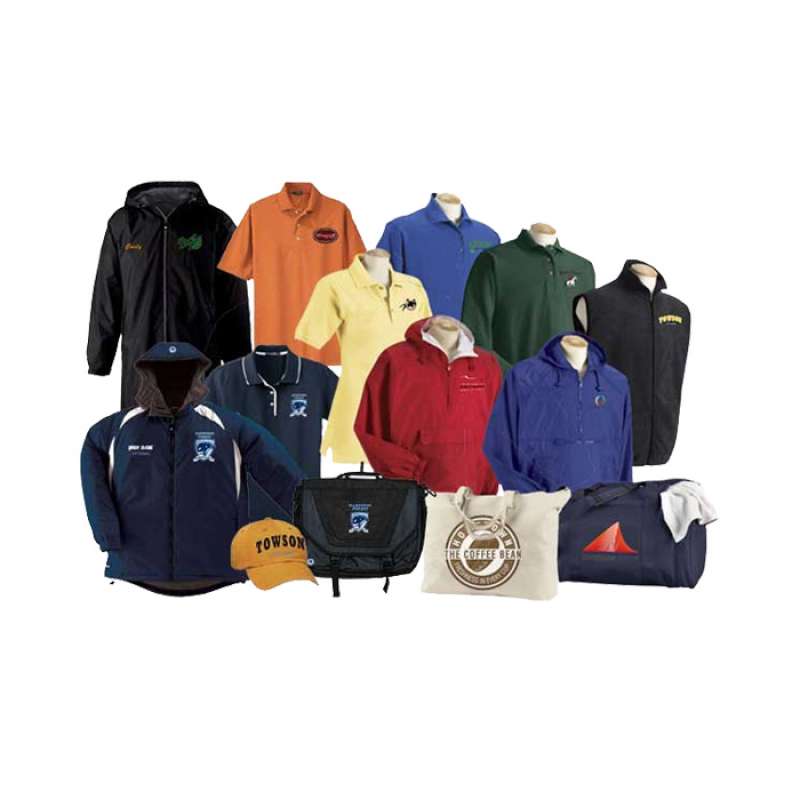 Corporate Apparel
Guertin Graphics and Awards offers the broadest line of the latest high quality active and Corporate wear. We specialize in corporate apparel and offer state of the art embroidery and screen printing in house. Guertins has many brands such as Adidas,  Izod, Nike,  Reebok and many more to choose from.
Sportswear
From team uniforms to team shirts, hats, bags and more, we have all your team needs covered here at Guertin Graphics. We carry all the major brands and are ready to help your team look as good as you play! 
Outerwear
From sweatshirts, jackets to hi-visibility gear and workwear, all your outdoor needs will be taken care of. No matter the weather or conditions we guarantee we'll have outerwear that will work for you. 
Golfwear
Guertin Graphics has many options to satisfy all your golfing needs. Contact us now to learn more about custom golfwear. 

Best Embroidery in Massachusetts From trophies, awards, t-shirts and banners, Guertin's has always come through with top notch artistry for the companies I have worked for, and for the many non-profits I work with.
John and his staff are so friendly and professional! Not to mention they have quick turnarounds and are excited to support other Worcester local businesses.